(I know, I know, it's not Tuesday again.)
Here Lie Two Necessary Evils.....
Is having an ambidextrous rifle useful? Practical? Necessary? The idea of an ambidextrous AR15 rifle is intriguing. After all, left handed shooters have been forced to shoot a right handed rifle for close to 50 years now (then again, most guns are set up for right handed people). Some companies are even making true left handed variants of the AR15 (Stag Arms) which takes all the aggravation out of having to shoot with brass flying across your face. The problem with that idea is, however, that most all the parts in the rifle are mirror images of the true AR15 parts, and if something breaks, you're basically screwed.
Recently, various companies have begun to manufacture parts which make the controls on the lower receiver ambidextrous. Most notable, ambidextrous safety selectors and magazine releases make manipulation of these parts feasible with either the right or left hand without shifting your control of the rifle significantly. Not only does this benefit left handed shooters who can now operate their rifle in a more traditional manner, but it also benefits right handed shooters who may switch to their weak shoulder during tactical situations.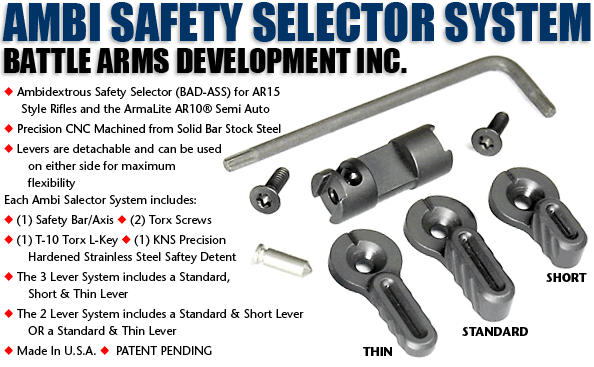 I recently added the Battle Arms Development Ambidextrous Safety Selector (B.A.D.A.S.S.) to my AR15 rifle. My reasoning is a little different than most, though. As you probably know, I'm a big proponent of installing only essential parts onto my rifle. I have been pleased if not just pacified with the standard safety selector on the AR15. My gripe with mine is that I have small hands, and putting the rifle from fire back on safety at the end of firing is difficult for me. I have to release my grip on the handgrip and shift my hand forward in order to move my right thumb far enough forward to be able to flip the selector (I assume this is a problem for a lot of people, not just me). Being a competition shooter, I don't like to release control of the rifle until I am absolutely sure that the stage is complete and I am done scanning the targets. If I have to remove my right hand from solid control of the pistol grip, then my trigger finger is moved out of position and I am unable to quickly get back on target and resume firing. This might seem trivial to most, but I don't like it.
Simply put, the BADASS ambidextrous safety selector has resolved this issue completely for me. I am REALLY impressed by this piece. By design, it allows manipulation of the safety from either side of the lower receiver, good for both right and left handed shooters who are shooting either strong or weak shoulder. Now, here's how it benefits me. When I want to flip the selector back to "SAFE", I can use my trigger finger on my right hand to flip the selector. This is easy because when I am done firing, my trigger finger is removed from the trigger anyway and should be at the ready right outside the trigger guard. I never have to release my grip on the handgrip and shift my right hand and can continue to be alert for any follow up shots I need to make.
The BADASS safety selector is a rugged, very well made part which you can see me install in my rifle and give a short review in
THIS VIDEO.
And as always, it's available
HERE
at
StrongsideTactical.com
. There you can find a selection of other ambidextrous accessories for the AR15, including the
Magpul BAD Lever
, another item I really love.
Be safe and see you next time.
~Mac